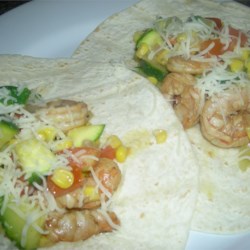 1 tablespoon Worcestershire sauce
1 tablespoon lime juice
1 tablespoon soy sauce
1 teaspoon chili powder
1 pound large shrimp, peeled and deveined
1 tablespoon olive oil
2 medium zucchini, cubed
1 red onion, chopped
1 sm can corn
1 tablespoon olive oil
8 flour tortillas
1 cup shredded Monterey Jack cheese
3 tablespoons chopped fresh cilantro
1 avocado

In a medium bowl, combine the Worcestershire, lime juice, soy sauce, and chile powder. Add the shrimp and marinate 15 minutes. Heat olive oil in a large skillet over medium heat. Cook the zucchini, onion, and corn for 10 minutes or until the vegetables are tender. Add the shrimp and cook for 3 to 5 minutes, until the shrimp are pink. Place shrimp and vegetable mixture in tortillas; sprinkle with the Monterey Jack cheese, cilantro and avocado chunks.

Photo and recipe from
here